Brrrrrr!  Coming to you from a snowsuit in windy, snow covered Ontario!

Good morning and Merry Christmas!  Ha!  I know a lot of you cannot stand the cold and snow but I must say I love it!  It has always given me a sense of well-being, like the Tonight Show or Modern Family....Maybe it's memories of the snowy winters of the 1970's and waking up on my own (not my mom's voice or at 7am) knowing that school had been cancelled once again.  That has to be one of THE BEST feelings ever!  Can I get an Amen?  I'm sure my love of the white stuff (not that) has something to do with the holidays too.  I've always loved them.  I love playing shows, singing some Christmas tunes (including "Blue Christmas" from mine and Pete Cavano's (www.petecavano.com) "One Voice, One Guitar"Christmas CD - your free download Anne E. DeChant Mailing List members!), seeing lots of people in a good mood, grown men cry (drunk uncle) and the mayhem and peace of Christmas morning.  Plus...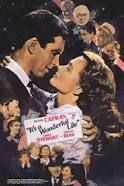 Donna Reed! 
            
and...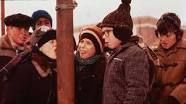 This all sits very well with me.

I drove north from Nashville last week for the holiday season and some quiet time, reading, writing and 2015 planning.  I've chosen, not Florida, not Miami, not some island in the Carribean but Ontario CA!  What can I say?  I just look better in snow pants than a bikini!  The holiday season is a good time to head out of Music City.  As the recording industry winds down its year and takes a little nap, I'll be shaping up my 2015 bookings (lots of new venues in the upcoming year), preparing for a new recording (yes, I said that) and finishing unfinished songs in the peace of a spot far from the city.  I'm grateful for the time.  Thanks to our good friends Chip and Natalie for hanging at our place in Nashville.  We know you'll love your stay and we appreciate you holding down the fort.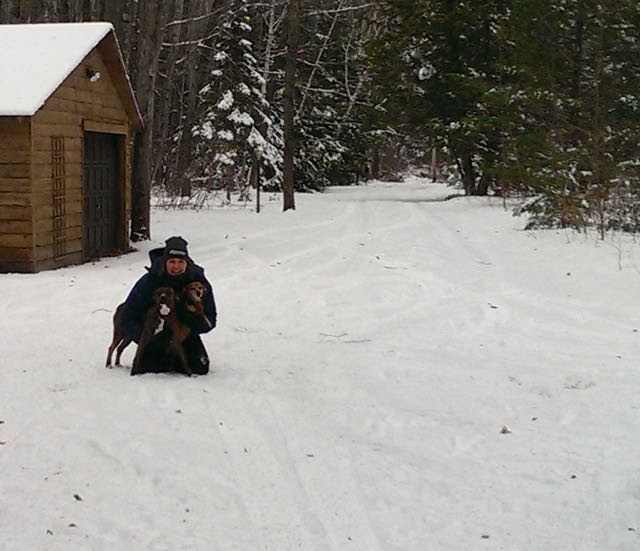 Eve, Anne E., Guffman enjoying the morning in Ontario.  Notice the warm, and stylish Anne E. DeChant winter hat?  On sale now during the Holiday Sale! at www.anneedechant.com  Order $10.00 worth or more and get a "One Voice One Guitar Volume II" Christmas CD for FREE!

I will return to Nashville for a bit in early December for a performance at a tribute to the late George Hamilton IV.  I had the honor of meeting George in the summer of 2013.  I met him at Brown's Diner (www.brownsdiner.com) in Nashville and heard him perform for the first time.  What struck me most about George was his gentle and thoughtful manner.  It came across in his music, his presentation, his wife, Tink's, attentiveness to one another and he and his son George V's obvious respect for one another.   It's a rare thing to find a person with such accomplishments who carries none of the swagger that is so apparent in today's "latest and greatest".  George was a class act in the very best sense of that notion.  And it wasn't a result of mellowing over the years.  It is who he was.  Check out this video of George in his earlier years and you'll see what I mean... https://www.youtube.com/watch?v=sERF2EcfC8U
 
   
After meeting George at Brown's I was thrilled to have been invited to spend time with George during his interview with my friend Frye Gaillard for series being produced about George IV, his life and career.  What stories I heard!..Elvis, Kristofferson, Joni Mitchell, Patsy Cline....and in just an hour.  I also got to play a couple of songs for George.  George Hamilton IV passed on on Sept. 17, 2014.  This is what The Guardian had to say about the long time favorite Grand Ole Opry star.... 
"
The growth of a considerable and loyal following for American country music in Britain was due in no small way to the efforts of George Hamilton IV, the singer and international ambassador for the genre"
 read complete obit here  

http://www.theguardian.com/music/2014/sep/18/george-hamilton-iv

 )

On December 6th, I will perform, "Urge For Going"...



"In the mid-60s, Hamilton was attracted to the new breed of folk singer-songwriters emerging in New York and Toronto. He took a special interest in Canadian music, becoming the first to record a song by Joni Mitchell (Urge for Going, 1967)..." -The Guardian



Details about this show are TBA.  Check www.anneedechant.com for details soon.

Thank you George.

After the George IV Tribute in Nashville, it's on to sunny St. Petersburg FL for a warm up and a show at A Taste For Wine (www.tasteforwine.net ) THE best wine bar EVER!  I'll be joining in a celebration of 19 years.  19 years of offering great wine, great atmosphere, great food and great nights overlooking Central Ave.  Thank you "A Taste For Wine" for asking me to be a part of your hooray.  It's been way too long since I've performed there and it will be my pleasure.  That's Friday Dec. 12, 2014.  See www.anneedechant.com for details.

I'll head to Avon Lake for Christmas...yea! and perform with Kelly and Pete at one of my favorito spots, The Barking Spider Tavern (www.barkingspidertavern.com), for my annual Day After Christmas Show.  It's always a roll of the dice where the weather is concerned.  Last year, we HAD to cancel.  Seriously, we usually get a nice snow (sometimes WHILE we're performing) but last year was just too much too early in the day and we didn't want to ask you to navigate that storm.  We're scheduled and we'll be there December 26th @ 10pm.  Admission is pass-the-hat, the beer is cold and the fire is warm and the music questionable...hmmm....

For those of you making your party plans for 2015, remember to book your house concert now.  My dance card is filling up so if you have a special something something, send me a submission via www.anneedechant.com to make arrangements.

2015 is going to be a great year!  I'm looking forward to extending my reach into Alabama, North Carolina, Georgia, Mississippi, Louisiana and more as well as on Americana radio as we promote a new CD.  I will continue to pursue a commercial country cut and placements in TV and film.  My greatest wish is to tell great stories and share them with great people like you!  For wherever that leads, I am faithful and grateful.

Thank you!

Anne E.

P.S. Thank you to the fine people at University of South Alabama (www.southalabama.edu) for hosting "Story Telling Through Song" at Marx Library Auditorium and my performance at Satori Coffee House (beer included!) in October.  Frye and I had a great time.  I enjoyed meeting and talking with so many of you warm and intelligent souls.  Welcome to my mailing list.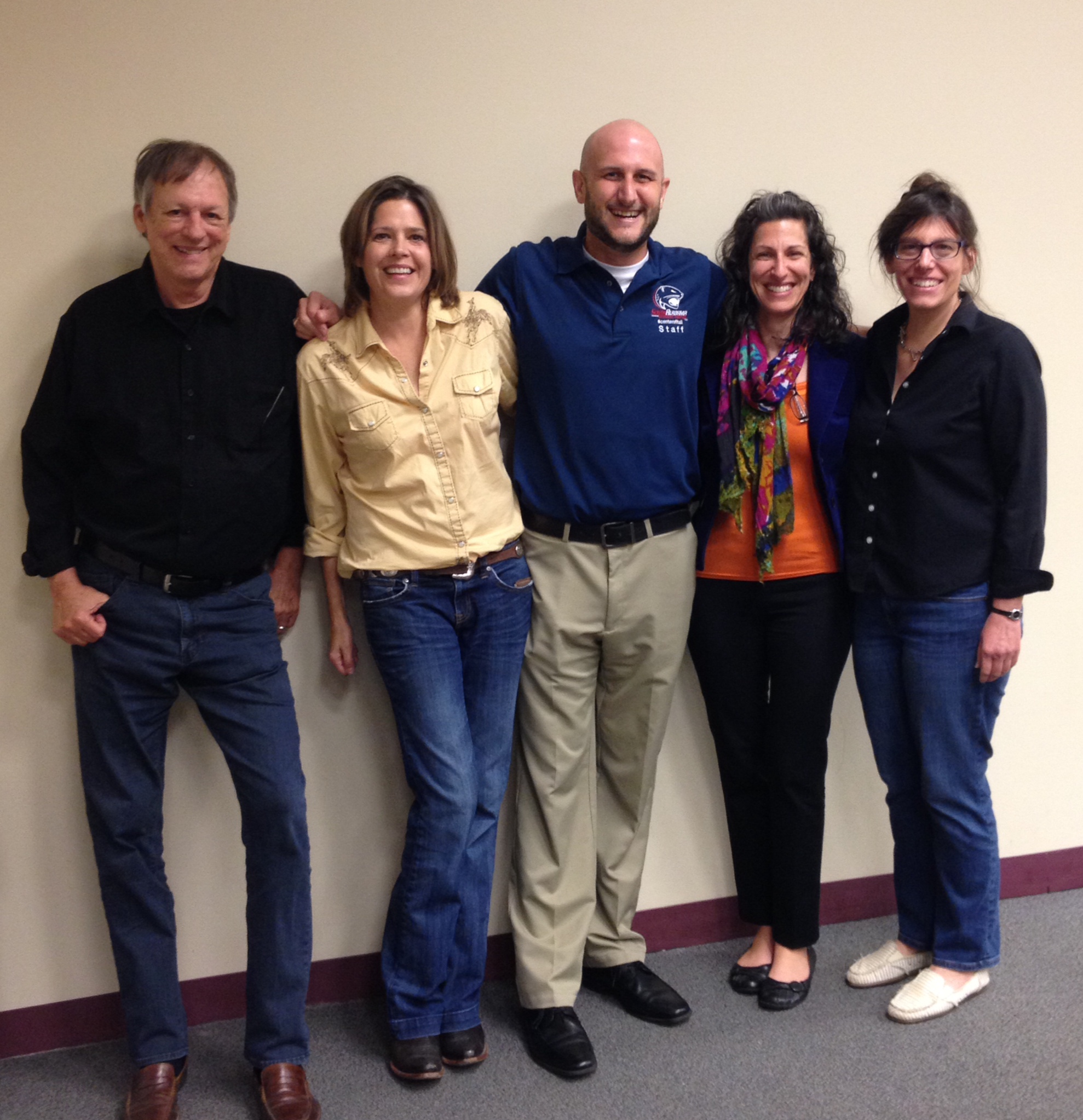 University of South Alabama, "Story Telling Through Song"
L to R, Author, Frye Gaillard, Anne E. DeChant, James Contratto, Associate Director for Student Activities, Krista Harrell, Associate Dean of Students, Director of Common Read Program and Martha Jane Brazy, Professor of History, Director of Gender Studies